Castaway Lodge Seadrift Report
By Capt. Kris Kelley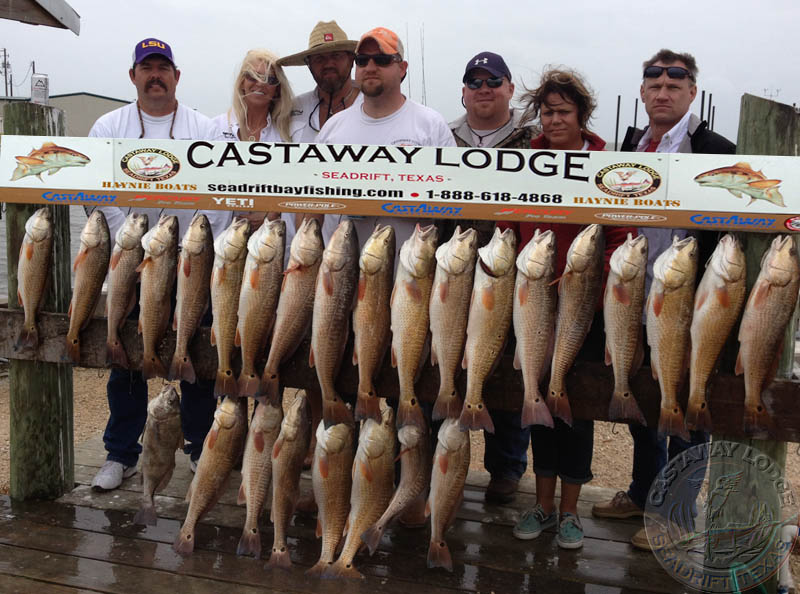 Turbulent weather last week saw some rescheduling and it looked like the timing of the cold front for the weekend was going to be perfect. Well that wasn't the case but it all worked out for the best. Guests from central Texas, MN, VA, and IL experienced awesome flats fishing for Redfish and Black Drum. Saturday was reasonably mild given the winds building late week and all boats reached full limits on Redfish with some guests doubling on both Redfish and Black Drum. Day 1's group tournament leader included a 29" Redfish aboard Capt. Chris's boat. We were all focused on mud/grass pockets in shallower bays and back lakes working bait.
Check out
Castaway Lodge
featured by
Texas Sporting Journal
in this months issue on news stands NOW! Here's a sneak peak at the
article.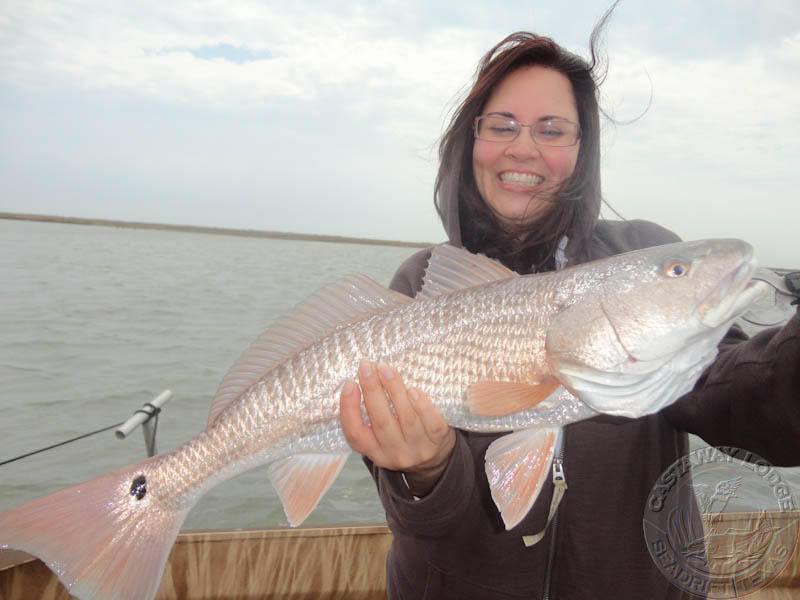 Sunday found us all over the radar early with no doubt the cool front was going to hit us early. With the weather signature pretty mild (relatively speaking) we decided to beat it onto the water and then ride out the rain and blow. That's a good plan if everyone has the gear for it. With boat loads of ex-Army Rangers and Medics along with their wives it was a solid plan. That's wear the gear comes in, some forgot to bring it and that ended a couple of days for two boats early. I pushed ahead of the weather to Matagorda Island, hotfooting it there while Capt. James and Capt. Chris headed for the safety of Hassleman's. They rode the weather out there and my guys took it on the chin with a fishing rod in their hands. Local weather station clocked the gusts associated with the front line at 22.5 MPH and it rained briefly. I had three solid Drum in the ice chest before the rain broke and Capt. James and Chris crawled out from under shelter. Things gradually eased up and by mid-day it was actually pretty nice (I called that one from the lodge). On my next to the last stop, Tosh wielded back on the rod and drag started ripping with line peeling off the spool. After a lengthy fight she managed to land a 32.75" bruiser to take command of the tournament and claim the $320 purse. Initially, the water was shredded, but it rebounded quickly. On my next to the last stop around 1:00 we completed full limits of Redfish with a half dozen Black Drum; one oversized 32.75" winner; and a Trout.
Toasted
When the big boss decided to tap me on the shoulder and asked Wendi to join us on the porch, I was touched by as special toast to everyone at Castaway Lodge for what they considered "the best hospitaility and a most memorable trip". "From one business man to another, you do it right". A nice way to end the week.
Like us on
Facebook
and we promise to "love you back"!
Capt. Kris Kelley
Castaway Lodge
1-888-618-4868
www.seadriftbayfishing.com
Facebook:
Castaway Lodge
Pinterest:
Castaway Lodge